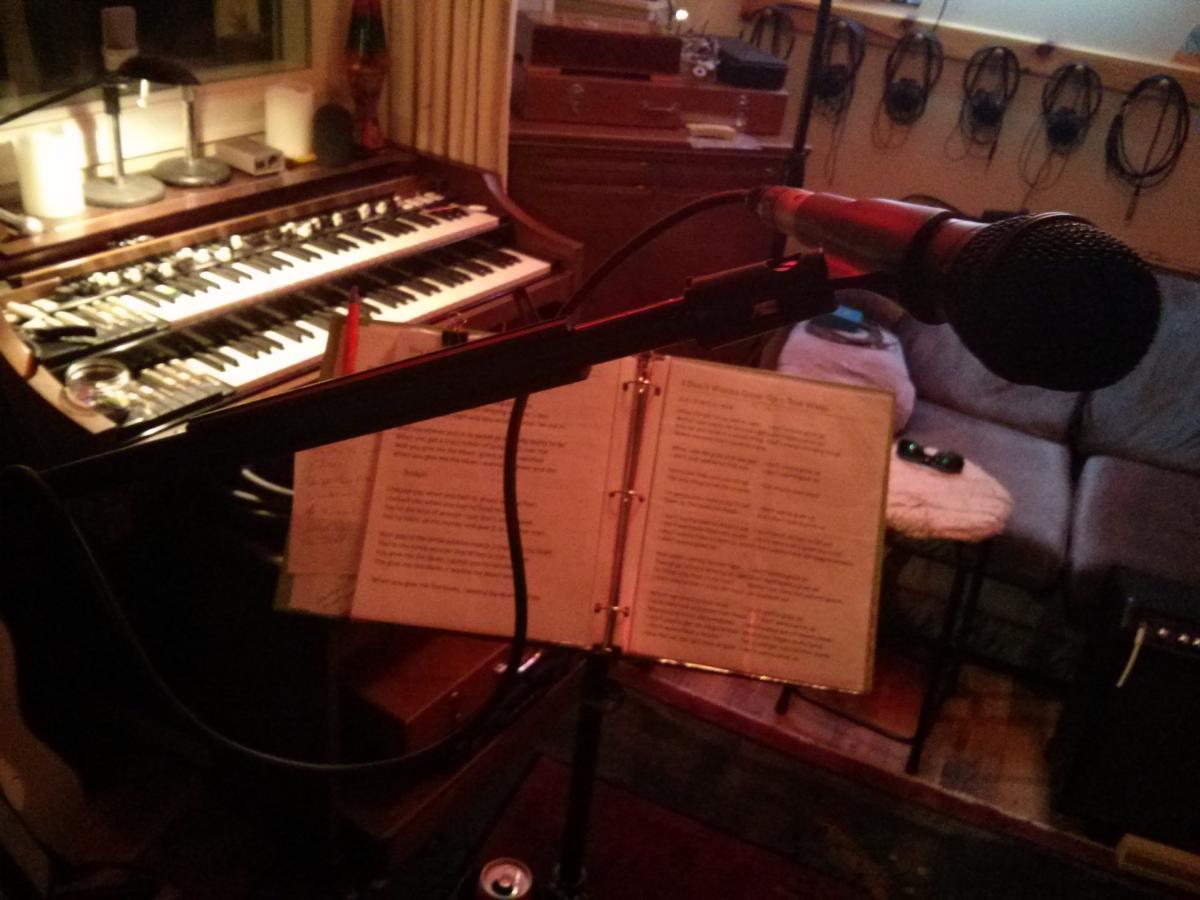 Today Was A Good Day
Yesterday was a day... just like every other day. Better than the last. Not that the day before was a bad day, because I did make a lot of headway, but it's a theme these days. I woke up early to the sound of a pressure washer outside my window, cleaning the deck. Thanks but no thanks. I went to visit the neighbor for coffee and cigarettes and then carried on with my day as a computer repair man. I did a job from home while catching up on some very overdue paperwork, my least favorite part of the job. I was running late on an appointment and called them to confirm a later time. I finished up as much as I could from home, had a shower and made my way to Shawnigan Lake. This job is going to be ongoing and probably one of my greatest challenges as a technician as I have to maintain a computer for a former computer tech that has early onset alzheimer's disease. This will be tricky. I finished the job at the clients house and moved on to the next stop, Mancave Studios.
This was my first experience tracking with Pro Tools in a real studio environment. In the past, most recordings were hacked together by a bunch of gearheads experimenting with electronics to capture the sounds. I made it clear to Greg (owner/operator of Mancave Studios) that I want the raw sound. Very little production with organic recordings of the instruments and electronics. We're not gonna track on tape or anything like that cuz I'll fuck it up, almost every time. It's still convenient to cut/paste when absolutely necessary.
We got together mid-week so that I could get a feel for the room and get comfortable with the space before jumping into a day long session. It was a pleasant experience all around. We haven't lit up any amps yet but the time is coming. Probably in post-production. I laid down two takes of four songs and played them all at about 98%, aside from the scratch vocals and the Tom Waits song. Not as easy when the red light's flashing. The NOFX and Green Day songs were a good warm up. A Big Business cover snuck it's way into the session too. No NIN today, but Saturday is coming soon.
We wrapped up in the Mancave around 9:30, enjoyed some Hindu Kush and talked about plans for the weekend. I quickly and calmly packed up my gear and hit the road to Nanaimo to catch a spot at the Open Mic at the Cambie. I texted a few people to join along but they were at other jams in other cities. I did manage to meet up with Nicholai once I got there. I'm stoked for his sets at the Spinny Cabaret tonight.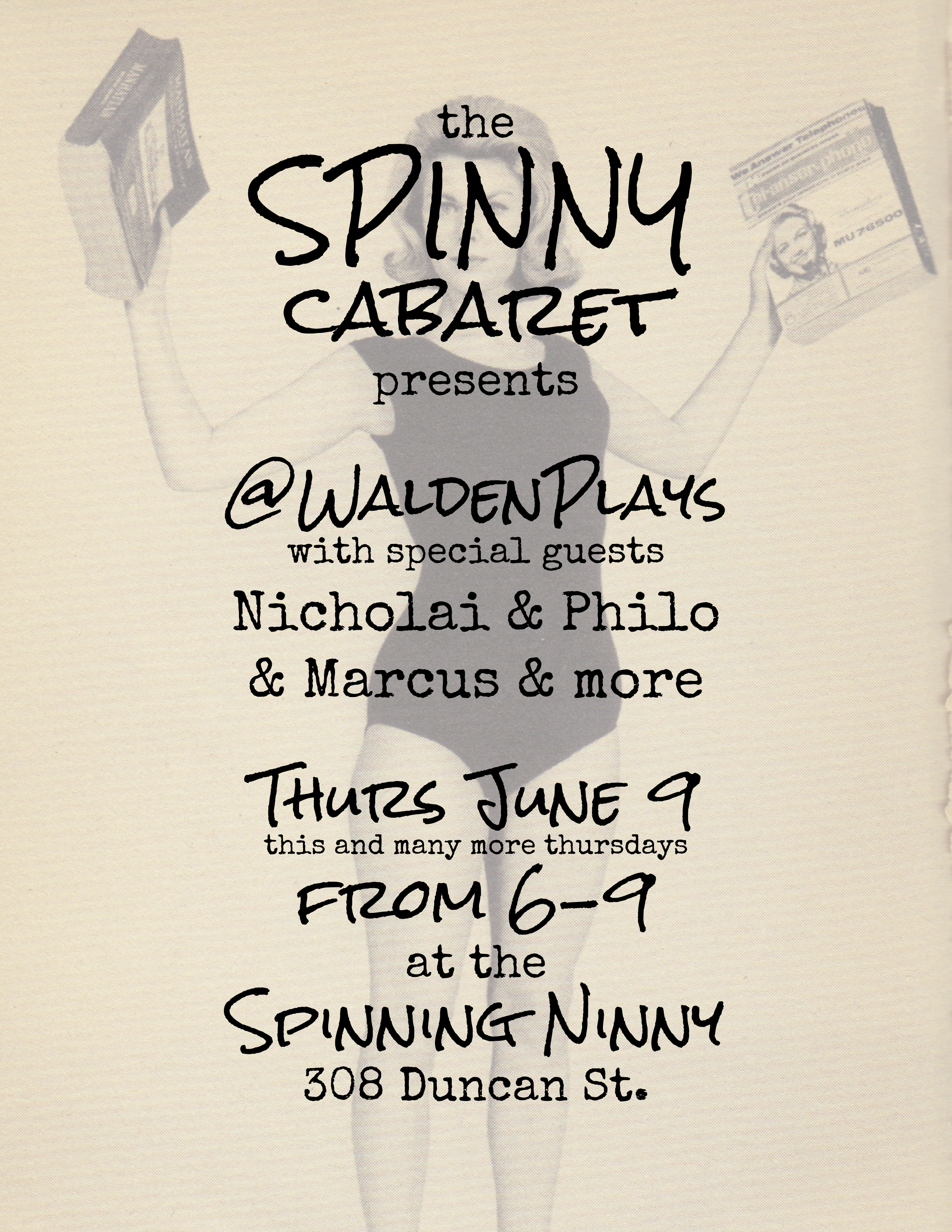 Tonight is the night when the Spinning Ninny launches the Spinny Cabaret. Check out the Facebook event here and download, print, post the flyer above or below. Lara (owner/operator) mentioned that she wanted to do something like this when I approached her about doing a show in the store some time ago. We collaborated on some ideas, set a date and rounded up some great musicians to entertain the peoples. I'm excited for the lineup too. Nicholai is a multi instrumentalist who actually makes his own instruments. He will be playing before and after every set. Philo has a punk rock acoustic style that I liked immediately and plays in a band called Vying For Glory. Marcus is a talented M.F. who plays drums for Shobcon and sings with a guitar in The Underdogs. Then I'm gonna shit into the open air of dead space in Duncan and play some acoustic covers of Nirvana, Green Day, NOFX, Tool, Cypress Hill and many more songs you might or might not know. I'm tempted to play Rage Against The Machine.
Lara plans to continue the Spinny Cabaret for many Thursdays all summer long so stop by her shop and sign up to perform at the next one. It's gonna be a lot of fun with random singers, dancers, spoken word, a little theatre, who knows. Stay tuned... for the Spinny Cabaret and the Mancave sessions.